Current eye cream: Philosophy Hope In A Tube Eye and Lip Firming Cream
The thing about sharing your thoughts and life online is that people form an opinion on who or how you should be. I think everyone is entitled to have that opinion - if you're free to think or talk about whatever, everyone else is darn well free to do the same! That's why I'm always super chill about any critical comments I occasionally get here. What people think of me is not equivalent to who I actually am. It's healthy to know the distinction!
That's my advice for you today: have a strong sense of who you are and what you're worth, so that when the time comes these are challenged (because they will be), you know how not to be lost.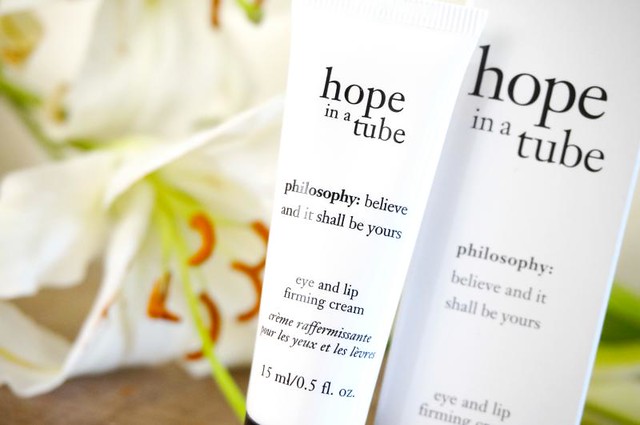 Anyway, I have a skincare product for you here: the Philosophy Hope In A Tube Eye and Lip Firming Cream (~P1,900). I've been using this for about three months now and it's been pretty great! It didn't magically remove my under eye circles and lines overnight, but I've noticed that they just look fresher - I often don't even need to wear under eye concealer. When I do, I can get away with just sheer brightening ones.
Philosophy claims that Hope In A Tube has antioxidants and vitamins but I've observed that they are rather low in the ingredients list. The main components of this eye/lip cream is water, squalane, glycerin, mineral oil, and petrolatum. These are all common and safe moisturizing ingredients. Some websites will tell you they're not, but I've researched them befoe and the US FDA all qualify them as safe to use. I personally don't break out from these ingredients, although of course I can't guarantee the same for you.
That being said, those same components are what makes this cream effective. They coat the skin and prevent moisture from escaping it, so skin feels firmer and less dry over time. That's why I highly recommend this eye cream as a maintenance product. It doesn't contain any hifalutin' ingredients that'll whip your bags into shape, but it is dependable and it will keep your under eyes from drying out.
It's water-based, so it won't just sit on top of your eye bags looking weird. It will get completely absorbed.
The texture is thin and watery once it comes it contact with the skin
Why not just use a normal moisturizer, you ask? Moisturizers are too heavy and rich for the thin skin surrounding our eye area. That's why sometimes you get tiny fleshy bumps there - its because your moisturizer might be clogging up pores! Eye creams have a waaaay thinner texture and are easier to absorb by our skin.
This Philosophy product also claims to be good for the corners of the lips, which it is, but you can use any eye cream to the same effect.
Overall, I recommend the Philosophy Hope In A Tube Eye and Lip Firming Cream to anyone who needs a maintenance eye cream that is quickly and completely absorbed by the skin. It's a lovely product, although it's not as miraculous as say the Lancome Visionnaire eye cream (not as expensive either). Try this if you want an eye cream that doesn't feel like an oily mess during the day!
Thoughts? What eye cream are you using now?